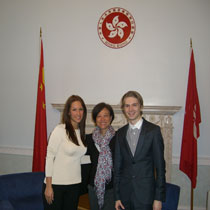 The Latvian British Chamber of Commerce (LBCC) has arrived making a mark on Friday the 3rd December 2010 at the Embassy of Latvia in London. The LBCC would help to revolutionise the thinking between Latvia and the UK helping to bridge the gap even further between the 2 sides.
The other 2 Baltic State countries Estonia and Lithuania are generally not so far behind Lativa so this will allow them both to prosper also.
The creation of the LBCC is a result of 3 forward thinking people Anete Vignere, Marcis Liors Skadmanis and Datsa Gaile between them they have combined skills ranging from Law, Funding, Investment, Business Management, Research, Marketing, Media and PR.
Many key figures are attending for example HE Eduards Stiprais, Latvia's Ambassador to the UK and Mrs Agnes Allcock, Director-General of Hong Kong Economic and Trade Office (centre of picture), also shown is Anete Vignere, Chairman of LBCC and Marcis Liors Skadmanis, Executive Director of LBCC.
The LBCC is expected to create opportunities for both sides that would result in creative and innovative business thinking resulting in a stronger Europe.

Share on Facebook