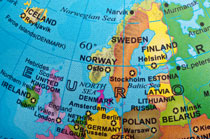 Sourced by Cormack Consultancy ltd.
What do firms expanding to the Eastern Europe need to know before starting marketing in local social media?
It was recently announced that IKEA plans to conquer further the Eastern European market by entering Lithuania, and later opening its stores also in Latvian and Estonia. It is not the first Northern brand which is interested in these markets; H&M is also continuously exploring the opportunities to open its first store in one of the Baltic countries. Costa Coffee, the largest coffee-house chain in the United Kingdom and 2nd largest in the world, has expanded to Poland in 2006, and to Czech Republic in 2008, and has recently opened its first cafes in the Latvian capital Riga. For the companies it means not only new markets and consumers, but also extensive marketing efforts coped with significant cultural differences. Even such globalized and international marketing field like social media needs a different approach when advertising in Eastern Europe, particularly Baltic countries and European part of Russia.
For example, what should a firm do in the social media in order to attract followers from the Baltics? Estonia has very high Internet-penetration and 75% of population is using the Internet. People there love new gadgets and technologies, and will follow you with great pleasure if you offer them sweeteners of such kind. Latvians, for instance, use their local social network Draugiem.lv, which is far more popular than Facebook, and they are also the most active Twitter-users out of all the three Baltic countries. Lithuanians and Estonians prefer Facebook, it is the 6th and the 3rd most visited page in these countries. Google is the most preferred search engine in the Baltics, and Youtube is the third most-visited web page. However, such social media web pages like Foursquare or TripAdvisor are far less popular there than in the Western countries. And everyone in the Baltics is reading or at least browsing from time to time the local news portal Delfi.
As for Russia, everything is even more different there: about 46% of population use Internet, and 25% of them are situated in Moscow or St. Petersburg. The most popular search engine is Yandex.ru, and the most popular social network is local Vkontakte.ru with Facebook being behind it. Blogging is of immense popularity in Russia, with Livejournal.com being the most popular blogging platform.
That is why international social media management is important. It helps to recognize the important distinctions between the social networks of different countries, and to adapt the best practices from other campaigns to the local conditions. As there are a lot of Western firms looking in the direction of the Baltics and other Eastern European countries, this is an important point for their consideration. That is why Charles Cormack established Cormack Consultancy which specializes on helping Western firms to market themselves in the Eastern social media.

Share on Facebook