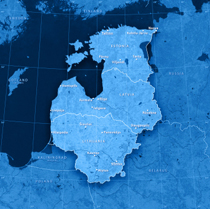 RB Rail, the new joint rail system to be constructed and shared by Latvia, Estonia and Lithuania, has been registered in Latvia. Talks and agreements taking place last month for Rail Baltic II are a further continuation of Baltic I – which includes a line from the Polish-Lithuanian border to a new intermodal terminal at Kaunas, presently under construction, is expected to be concluded in 2015. The overall cost for RB II is likely to be in the region of €3 billion Euros with Latvia's Transport Ministry share being at approximately €1.95 billion.  The transport line is being viewed as an important bridge between Europe and the Baltic States and will no doubt contribute toward further economic development.
Latvia Transport Minister Anrijs Matiss said: "I want to emphasise that the greatest beneficiaries of this project will be the Latvian, Lithuanian and Estonian citizens, who will be able to easily travel to any Baltic country and other destinations in Europe in the near future."
Two representatives from each country of Latvia, Estonia and Lithuania have been appointed to the board of RB Rail – Anti Moppel for Estonia is chairman of the board, Ugis Magonis representing Latvia and Dainius Budyrs Lithuania. They will oversee the design, construction and marketing of the new 728km long railway line which will enable trains to travel at speeds not exceeding 240km/h achieving travel times of Tallinn to the Lithuanian-Polish border of about 4 hours.

Share on Facebook