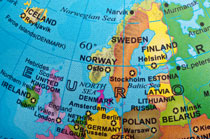 Estonia Housing is in the thick off it as the market is recovering well following 3 years of high losses (reported by: Statistical Office of Estonia) Tallinn average house prices for dwellings increased up to over 10 percent which is great news for the region and tourism of course. This recovery started mid 2010 and it has only got better since then.
Due to economical factors such as little interest rates, little inflation the housing market inEstoniawas in continuous rise between 2000 and 2007.
Real Estate is important for every country especially at a time like now with the EU crisis progressing hoping for a solution shortly.

Share on Facebook