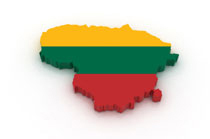 Lithuania's President, Dalia Grybauskaitė, is currently on a state visit to Norway.
Today, during a tour of the Fiskerstrand Shipyard in Ålesund, while accompanied by King Harald V of Norway, President Grybauskaitė commented that this, her first state Norwegian visit, has revealed plenty of perfect but unused opportunities for cooperation with the Nordic countries, both in politics and in developing concrete business projects.
The president went on to say that joint projects between shipbuilders of Alesund and Klaipeda in constructing the most advanced ferryboats and between textile producers of the Sula Municipality and Panevezys were just a few examples of successful economic cooperation.
Through meeting with Norway's Prime Minister, and other high politicians of the country as well as businesspeople during her visit had confirmed to President Grybauskaitė Norway's strong intentions to develop cooperation with Lithuania.
Western Shipyards situated at Lithuania's innovative business port at Klaipėda has been in collaborative work for the last 11 years with Fiskerstrand Shipyard and between them are currently carrying out a 90 million euro project of building sea-going ice-resistant ferryboats. Last year the Fiskerstrand Shipyard contracted the Western Shipyard to build the world's largest gas powered ferryboat utilising the latest technologies.

Share on Facebook