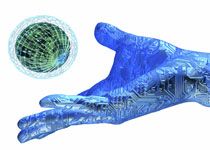 Much headway was made during a recent meeting at the Nigeria High Commission in London between Marcis Liors Skadmanis, the Chief Operations Officer of the Latvian British Chamber of Commerce (LBCC) and Bashir Musa, the Minister of Economics and Commerce of Nigeria in the UK.
Nigeria is a fast developing state, the largest and one of the wealthiest countries in African with 120 million inhabitants with fast a growing need for telecommunication technologies and manufacturing opportunities. It is one of the world's largest gas producers and mineral extractors and is interested in the renewable energy as a resource field.
Latvia has much to offer with its proven capabilities in invention and innovation; on the table for discussion were opportunities for mutual support and collaboration in the field of education, developing exchange programs for students and professionals, and cooperation with science centres, renewable energy, natural resources and technology manufacturing.
Nigeria would be interested in creating collaboration with private companies in the Baltic States. Mr. Skadmanis and Mr. Musa were considering the options available to generate the most beneficial partnerships between Nigerian companies and private Latvian entrepreneurs, represented by the LBCC, to develop and make use of the maximum opportunities available.

Share on Facebook