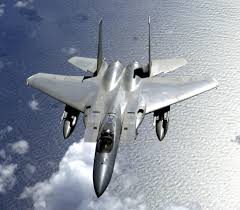 The skies over Lithuania have become very busy of late. One hundred US air force personnel, F-15 fighter jets and a NATO early warning radar plane plus JAS-39 Gripen of the Swedish air force have all been deployed at Šiauliai in Northern Lithuania. Šiauliai is the largest former military airbase in Eastern Europe; it is reputedly big enough to land a Space Shuttle. In practice runs the F 15 fighters aim to be airborne with in 15 minutes of an alarm being rung. Lithuania do also have military planes of their own, just not enough of them to police the skies from recent frequent Russian 'fly byes', so NATO's more equipped members intend to take turns doing it for them. The US has provided ten F 15, up from the usual 4 provided and offers of planes have come from other member states including France, Denmark and the UK.
The force in Šiauliai can also be backed up by Uedem, a base in Northern Germany. Here a variety of NATO forces work together in collaboration to monitor the skies and track planes travelling over the Baltic States. Air borne forces from Uedem can be deployed at a moments notice to back up those already in the Baltics if required.
Since 9/11 it isn't just the recent excess of Russian planes causing such intense scrutiny of the skies, unidentified civilian planes are treated with equal concern.

Share on Facebook