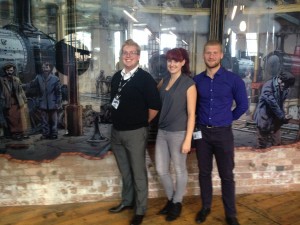 A student from Lithuania at the University of Derby has helped to bring an international conference on Europe's industrial heritage back home to the place where it all began. Sir Richard Arkwright's Cromford Mills were at the forefront of Britain's Industrial Revolution in the 1770s, and other developments pioneered in the area led UNESCO to declare the Derwent Valley Mills a World Heritage site. Now the German-led European Route of Industrial Heritage (ERIH) group is holding its annual conference in the UK for the first time – at Cromford and hosted by the Arkwright Society, which is dedicated to restoring the Mills.
"It's coming home to its roots," said Ian Taylor, one of the three Events Management students at the University's Buxton campus who have been put in charge of the management of the conference from October 1 to 3.
Ian has organised the logistics, liaising with the organisers in Hamburg and the Arkwright Society, while Paulius Jakuitis from Kaunas in Lithuania is in charge of marketing. Chantel Scully, from Wakefield, is in charge of hospitality. Events include a gala dinner for delegates, tours of the Valley including some of its other historic mills, and the industrial heritage of Derby from railways to Rolls-Royce engineering. They are also in charge of an academic conference at Cromford following the ERIH event, and overseeing DerbyCollege students who are providing the catering. All Events Management students get involved in organising functions as part of the University's real-world, hands-on style of learning, but working with so many different organisations has been a real challenge, said Paulius.
"This is how Derby gives that extra value compared to other universities offering similar degrees," he said.
"I am delighted that at Cromford Mills we are able to work with the University in providing the opportunities for students to learn in a 'real life' experience," said Sarah Mcleod, Chief Executive of the Arkwright Society.
"They have certainly given it their all and I am confident that they will be able to take new skills away from this project and use them in the workplace."
ERIH was set up to develop tourism routes through Europe for enthusiasts of industrial heritage to follow.

Share on Facebook