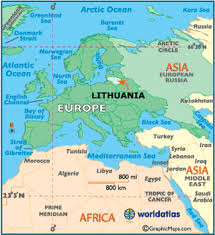 It was reported on Reuters that the Lithuanian government encouraged utility company Leituvos Dujos shareholders to seek arbitration against natural gas supplier Gazprom. Voting was held on Thursday to force Gazprom to reduce its prices. Lithuania currently pays some of the highest utility prices in Europe, much higher than paid by her nearest neighbours – Latvia and Estonia.
Gazprom is one of the world's largest suppliers of natural gas and provides the gas needs of a quarter of Europe. The European Commission has been investigating the supply giant since 2012 for suspected the anti-completive practices of overcharging customers and blocking rival supply companies. The minister of energy stated that Gazprom's supplying to Lietuvos Dujos at such inflated prices, higher than Latvia, Estonia and Germany were being charged, was harmful to Lithuania's consumers, the economy and Leituvos Dujos as a company.
A previous case filed by the Lithuanian government against Gazprom before the international arbitration court in Stockholm, is demanding compensation of 5 billion Lithuanian litas ($2 billion) for previous pricing. The new arbitration initiative will hopefully speed up talks with Gazprom to finally achieve a discount. Gazprom stated that Leituvos Dujos agreed to pay prices based on a formula that is linked to oil pricing and that it would not change its pricing practices in Eastern Europe in spite of regulatory pressure. The current sale agreement is in place until the end of 2015. The Gazprom said in September it could reduce prices if Lithuania signed a "comprehensive agreement" and withdrew the existing claim from the Stockholm court. Lithuania plans to erect a liquefied natural gas (LNG) terminal at end of 2014, and its top power utility Lietuvos Energija expects to start importing LNG in 2015.

Share on Facebook