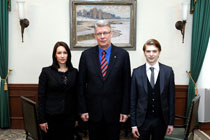 This January's Nordic-Baltic Summit in London saw the meeting of many like minded Ministers, policy makers, entrepreneurs and business leaders from across the Nordic and Baltic States; an unequalled opportunity to create innovative enthusiasm and exchange ideas to boost future economic growth.
Just such an opportunity was taken up with gusto by LBCC (Latvian British Chamber of Commerce) who recently set up their organisation with the implicit intention of aiding and encouraging Latvian businesses building their presents here in the UK and those Latvian enterprises wishing to do business with UK; as well as UK businesses interested in commencing business with Latvia. The Nordic-Baltic Summit gave organisations such as the LBCC a chance to speak with many ministers such as the Latvian President Valdis Zatlers and the Minister for Foreign Affairs. During the summit the LBCC also met with many other ranking Latvian officials in relevant Associations and Industries, invaluable for their organisation and its members, an opportunity rarely available all in one place and time.
The Nordic-Baltic Summit proved invaluable not just between different Economic States and their Ministers, but in promoting smaller individual corporations eager for a chance to network and endorse their members and associated smaller organisations so supporting future growth in their individual industries.
Picture: Anete Vignere CEO of LBCC, President of Latvia Valdis Zatlers, Marcis Liors Skadmanis Chief Operations Officer of LBCC

Share on Facebook