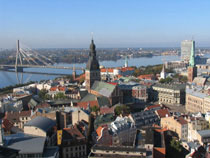 This time of year is always the busiest in terms of students moving out of their University halls and inclusive properties and looking to rent or buy their first very own accommodation, in preparation for the new school year. In Latvia this month the rent market has remained as active as it was in May and June this year.
It has been reported by Ober-Haus (Latvia's leading real estate agency) that the demand for apartments is at it's highest, whether for single or multi-bed, and the most active clients in search of these properties have been students – closely followed by employees and managers of international companies, foreign teachers and international bank workers.
The most popular apartments are proving to be those within the 210 to 430 EUR a month price range. Although the housing market can often take advantage of this student boom, most rent prices stayed the same this June. Rent prices for accommodation in the city centre are varying from 7 to 9 EUR per meter squared in older buildings, to 8 to 10 EUR per m2 in newer, more modern buildings. The apartments in these older buildings are the most sought after, as many of these come with the need of repairs, and in turn can often be bargained for a cheaper rental price.

Share on Facebook