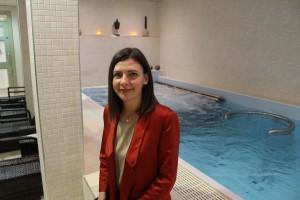 Latvian student, Ieva Cesnoka, has been making waves through her research at the University of Derby Buxton in International Spa Management. Ieva utilised her master's degree in psychology gained from University of Latvia for her research in Spa management to demonstrate that managers could introduce more eco friendly practices and increase profits.
The organisers of the Professional Spa and Wellness Convention held in London's ExCel conference centre invited Ieva and five colleagues to carry out research into best practices following acknowledgement by the industry that Buxton was leading the world in spa degrees. Ieva's research revealed that 50% of managers surveyed didn't respond to questions regarding the principals of sustainability and 3% admitted that they weren't even sure what it meant. Ieva stated that sustainability meant much more than just being eco-friendly, it included running a business in a manner which saves the planet, while retaining the right employees and increasing profit.
The research was so well received that the university has been invited to carry out another research project next year. Ieva has been invited by world leaders in spa, from the President of the Spa Federation of Africa to suppliers of spa products in Australia, to take part in further projects.

Share on Facebook