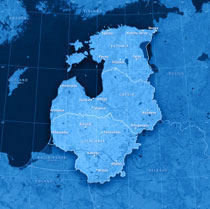 Among the twelve new EU member states, Latvia has ranked in the third place in terms of concluded agreements on the EU fund project implementation, as well as in terms of project implementers who have received the funding as of late September, according to the data presented at the recent EU states conference in Hungary.
The Finance Ministry's Deputy State Secretary, Alexander Antonov on EU funds matters, says, "It is not surprising that we are in the top 3 of the best acquirers, because from the start of the EU funds period, Latvia has steadily kept leading positions among the top acquirers".
Latvia has concluded agreements with the EU funded project implementers for ~ 2.5 billion lats or 80.5% of the total allocation until September 30, while nearly 1.2 billion lats or 37% of the total EU fund allocation for 2007 – 2013 period have been paid to project implementers. Assessing the acquisition in terms of the paid funding to project implementers; Estonia ranks in the first place, followed by Lithuania, with Latvia taking the third place. While, in terms of the concluded agreements, the first place is taken by Cyprus, the second – by Estonia, while the third place – by Latvia.
The EU budget revenues mainly consist of member states' contributions or the EU's own resources. The proposal by the European Commission (EC) stipulates introduction of new own resources in form of new taxes, namely, the implementation of the EU value added tax (VAT) and financial transactions tax.
Latvia has negative standpoint regarding these new taxes. Given the current financial and economic conditions and the additional tax burden already imposed on the country's residents, Latvia cannot support the adoption of new taxes on the EU level, indicates the Finance Ministry.

Share on Facebook