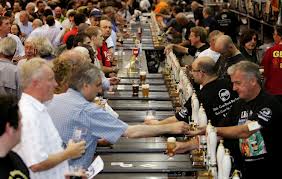 'Latviabeerfest' is to be held for three days in Vermanes Park in Riga. Starting on the 23rd May and ending on the 25th May the festival will feature in excess of 165 Lavian and foreign produced beers. There will be other events included during the festival such as a Miss and Mr Latviabeerfest 2014 competition, plus food to taste and non alcoholic drinks for children and music.
Beer drinking and brewing is considered a serious business in Latvia with many small and medium size speciality brewers catering to individual tastes. Most restaurants serve beer with meals, although wine is also available, beer is more traditional consumed with Latvian cuisine. The Merlin restaurant near the central market in Riga is one of the largest specialised beer restaurants in Latvia.
This years Beer Festival is financed by Riga city council, Latvijas Avize, Live Riga and Stefan Pehringer who is the Austrian Ambassador in Latvia. There will also be an international conference, Baltic Beer Star, where international professionals from the brewing trade can meet to discuss the latest techniques and developments.

Share on Facebook