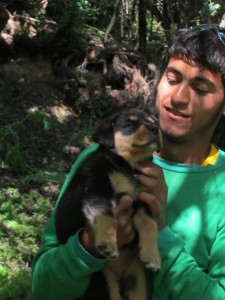 Sourced by Lucy Irvine
Originally Lucy Irvine moved from Scotland to Bulgaria because of the cheaper property prices. After 7 years she has learned much about both communities in her village – the small holders up the Bulgarian end; Turks and Roma in the maxla, or ghetto.
At first, she observed these lifestyles through typically expat eyes – from the terrace of her renovated home. She shopped in town, didn't use the local bus, exchanged smiles but didn't mix. Then, in 2009, her house burned down and everything changed.
When her Bulgarian neighbours learned she was camping in the ruin of her burnt out home, they brought blankets and food and offered space in their own modest homes. Maxla folk came too, with horses and carts. Her credit cards destroyed, she bartered dented woodstoves for help with clearing the rubble to find the remains of her computer (which they never did) and a bicycle for carting away the smoking remains of furniture. She worked with the Roma men and women combing the ash for keys. Scorched photos of her children were brought to her by sympathetic mums, and in return she listened to their own tales of joys and sorrows.
On her feet again – first in a caravan and in now, a yurt – she wanted to 'give something back' to both communities. She also wanted to help the suffering animals she saw around the village.
So, she set up a tiny fund: Kapkis – meaning Drops, in Bulgarian. Kapkis donates to a kindergarten attended by Roma children, provides knitting work for Bulgarian babas on meagre pensions, creates work for men and gives food to penniless mums. Dogs and horses are wormed, and Kapkis helps people and their animals via a shelter to house homeless pups until they're neutered and found local homes, where their care is supported.
To learn more, visit https://www.facebook.com/castaway.lucy  And – http://castawaylucyirvine.wordpress.com/2014/06/11/project-to-jointly-help-people-and-dogs/

Share on Facebook