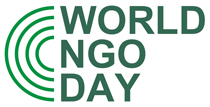 An initiative to inaugurate the first World NGO/NPO Day will be held on 18th November 2011 (www.worldngoday.com). The World NGO / NPO Day is a day dedicated to all Non-Governmental Organizations, Non-Profit Organizations operating throughout the world in recognition of the great and valuable work these organizations do every day of the year. This day also is dedicated to raising awareness for the activities, projects and initiatives of these organizations that benefit humanity, the environment and our planet. The World NGO Day is an initiative to promote the concept of a global day of celebration to honour the contribution that NGOs, Charities and other not for profit organisations make to society. The ultimate aim is for the General Assembly of the United Nations to adopt a resolution establishing this day as a recognised international event.
The Baltic Sea Region Development Forum which was held on 24th to 26 October 2011 in Gdansk, Poland showed great interest in this upcoming global initiative and noted it as a significant achievement and necessary value for NGOs and NPOs around the world.  In April 2010, on behalf of Marcis Liors Skadmanis CEO of the Latvian British Chamber of Commerce (LBCC), Mrs Rasma Pipike (Head of the Civic Alliance-Latvia) presented the World NGO Day – INITIATIVE 2010, at the 9th Baltic Sea NGO Forum in Lithuania. The initiative World NGO Day was accepted as an official resolution by members of the Baltic Sea Region NGO Forum 2010 in Lithuania, representing over 200 civil society organizations from 12 countries in the Baltic Sea Region.
"It gives me a great pleasure to welcome you to the World NGO / NPO Day! This global initiative is a positive platform bringing together Non-Governmental Organizations, Non Profit Organizations and all of us involved in this sector from every continent, to build a strong future for everyone.' said Ms Sung-Joo Kim the Chairwoman and CEO of  Sungjoo Group and MCM Holdings AG. Ms Sung-Joo Kim was ranked among the "Top 50 Women to Watch" by the Wall Street Journal in 2004 and Selected as one of the "New Century Leaders" in CNN for the Best of Asia in 2003. She is known for being actively involved in promoting women's leadership and for supporting humanitarian causes worldwide. By donating 10% of her net income to NGOs that support global health care and serving as a proponent of women's rights and leadership, Sung Joo Kim provides a strong role model for those seeking to give back to society in a meaningful way.

Share on Facebook