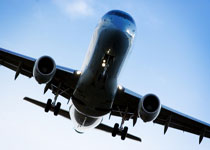 Estonian Air is awaiting a governmental rescue package to halt the risk of ending up in administration. After a disastrous year of record losses which saw the removal of the company's CEO Tero Taskila and the instalment of Jan Palmer as CEO, the company is still in difficulties. In October the company revealed a staggering loss over a nine month period of 20.2 Euros.
"The results shown by Estonian Air have been catastrophic. We cannot continue by losing 2.5 million Euros a month. It would not work," said Jan Palmer.
By December 4th the workforce will be reduced by half and the airline fleet reduced to just five aircraft. It has been announced that the employees will be reduced from 318 to just 172, one hundred of those earmarked as flight crew. There has been some rumble amongst the trade unions who consider that they have already made some big concessions. Veiko Saga, representative of the cabin crew trade union said that they had given up the work and rest time requirements and that they didn't we have salary demands, that the only remaining issue that is being debated is the grounds of redundancies. Being so close to Christmas and the holiday period this could not have come at a worse time for Estonia Air and their employees.

Share on Facebook