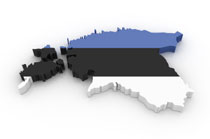 Estonian Telecommunication (Telecoms) is the most steady from all three Baltic States countries Latvia, Estonia and Lithuania. This was found out by EPSI Baltic in 2011 when carrying out a national survey. This is great news for a country like Estonia especially with its unique size and with its gradual increase in economy over the year. Economists believe it will overtake Latvia's growth.
A different story exists between the Private Internet Users and Corporate Mobile Users. Estonia has one of the highest Internet penetration rates in the world.
Around the world Orange acquires Congo Chine Telecom how can Estonia compete with this?
EPSI Rating is an independent organisation that provides neutral performance assessments to a multitude of users across Europe.
The National Telecommunications act in the second period of Estonian independence arranged a Monopoly on international and local fixed line telephony to Eesti Telecom, Estonian Telecom.
Where does this take Estonia now it could be a Europe to World Leader in Telecoms.

Share on Facebook