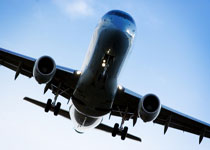 In January Estonia Air took steps to improve their profitability by investing in new planes from Canadian company Bombardier Aerospace. Andrus Aljas, Estonian Air company president recently announced that Estonian Air is now one of the most viable Baltic Airlines. He also commented that he could not before recall such growth in the company, even in the low season, and that he feels confident that this progress is permanent.
Tallinn Airport reported profits of two million Euros in 2010 compared to 0.4 Euros in 2009. Also that passenger numbers are currently up by 25% compared to the previous year.
Increased airport traffic has been contributed to by Ryanair who late last year embarked on providing flights from Estonia to seven different European destinations.
Estonia Air has encountered some complications in their investment; the new Canadian planes boarding gate doesn't fit Tallinn airport's passenger bridge, forcing passengers to embark via airport busses. Profits potentially created by the purchase of new planes with increased customer capacity now eaten into due to incompatibility with Tallinn Airports existing structure.
With the introduction of more flying routes to Brussels and London at the end of March 2011 and flights from Vilnius to Berlin from 1st May 2011 Estonia Air will be increasing their spread of the market by servicing routes previously only available through Air Baltic.

Share on Facebook