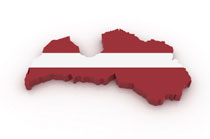 Detailing from a press release by LaIPA, an associating created by Latvian performers and producers to administer to the rights of musicians and recording artists to monitor the use of their sound recording and collection and distribution of remunerations, amendments to Copyright Law proposed this week have been accepted by the Human Rights and Public affairs of the Saeima.
LaIPA Executive Director, Ieva Platpere, stated regarding the proposed changes that LaIPA was against the Copyright Law amendments put forward by the Members of Parliament as they were not only a contradiction with existing international obligations and EU Directives and decisions of the European Court, but also infringed not only Latvian, but also international performers and producers rights to receive fair remuneration. LaIPA collects and distributes revenues not only on behalf of Latvian but also more than 700'000 international performers and producers who also are against proposed Copyrights Law amendments. LaIPA prepared and submitted its porposal for solving the situation the Ministry of Culture, currently working on the Copyright Law amendments. Ieva Platpere also stated that the proposal would unfairly deny performing artists and record companies the right to receive remuneration for the public performance of their music by a host of businesses.  The proposal is not only unfair it is also in blatant breach of the applicable EU law and against decisions of theEuropean Court.
According to a report in February 2012 by International Intellectual Property Alliance (IIPA) on Copyright Protection and Enforcement – several copyright industries report that poor enforcement persists inLatvia. IIPA members met with the Latvian Government in 2011 and appreciated the government's pledge of better cooperation with IIPA on key enforcement issues. IIPA accepted the significant reduced police and prosecutorial resources in the country due to the severe economic crisis inLatviaover the last several years and that IIPA hope that, nonetheless, working in cooperation with the Government in 2012 there can be significant improvement in the current IPR enforcement regime.
Relaxed Copyright Law enforcement can only have a negative knock on effect toLatviaand the efforts towards innovation and creation by the Latvian inhabitants and those wishing to create business collaboration withLatvia. The software industry is also suffering from piracy with businesses and government institutions using unlicensed software.
What can seem like a money saving 'freebe' can ultimately cost much more in long term lost creative revenue; intellectuals and artists alike will not tolerate piracy indefinitely and will take their irreplaceable abilities elsewhere.
"On behalf of over 27'000 performers in Sweden and countless others in Latvia and further aboard, the Swedish Artists' and Musicians' Interest Organization (SAMI) expresses its alarm and firm opposition to the proposed amendments to Latvian Copyright Law, which aim to provide free music to businesses for their public performance via broadcasting. Such diversion from the current system would be in stark contrast to the standards and practices adhered to across the majority of developed countries inEuropeand elsewhere," Stefan Lagrell, SAMI Managing Director.
"Rights Agency Limited (RAL) is a Company who represents over 1200 recording artists most of whom are UK based. Among our clients are Coldplay, Depeche Mode, Faithless, Phil Collins, George Michael, Celine Dion, Tina Turner and many other artists. RAL collects monies for its artists from Neighbouring Rights Collection Societies in many territories throughout the World. Latvia (via LaIPA) is one of the territories from which RAL's Artists receive remuneration for the use of their recordings. In these times when downloading has replaced the sale of physical product, Neighbouring Rights is an important source of revenue for Artists. This right is recognised by the EU and other Governments throughout the World and the Artists' rights to his contribution in the creation of a sound in a recording is indisputable. The artist has a legal right to be remunerated by a User of his musical contribution if it is used whether commercially or not. There are no boundaries or limitations as to the nature of the use of recordings. Wherever the music is used, there should be a compensation for the artist." Damian Pulle, Rights Agency Limited Director.

Share on Facebook