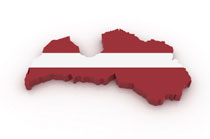 Riga International Airport announces record passenger turnovers in 2011, but ironically simultaneously Latvia's national airline, airBaltic, is rumoured to be heading for bankruptcy.
Riga International Airport has seen a growth of 20% in the number of passengers travelling via their airport, most travelling to European destinations. Unfortunately the growth in passenger lists has not helped troubled airline, airBaltic. airBaltic is reported to have lost LVL 13 million in the first quarter of 2011.
In 2010 the Latvian government invested some LVL 15 million in airBaltic on the basis of the business plan produced by company CEO and co-owner, Bertolt Flick. Mr Flick's business plan envisioned the lease purchase of new planes and other company developments which would lead to substantially rising profits for airBaltic in 2011 and 2012. The dramatic reversal in airBaltic's fortunes has lead to speculation of a deliberate and premeditated opportunity created to siphon funds. Mr Flick's privately owned company is affiliated with offshore owned companies which are contracted to provide airBaltic with fuel supplies, services and financial management.
Leading Latvian online ticket sales company, flysiesta.lv have suspended sales of airBaltic tickets in an effort protect their customers from possible losses and have stated that they would recommend their customers purchase tickets from other airlines.

Share on Facebook