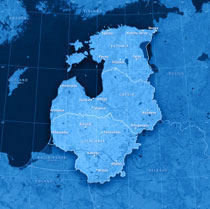 Earlier this week Microsoft confirmed their acquisition of Skype for 8.5 billion dollars.
Skype has had phenomenally fast rags to riches success, its story originating in Estonia. The idea was first conceived by three Estonian programmers, Ahti Heinla, Priit Kasesalu and Jaan Tallinn. The three had previously launched Kazaa software in 2001 which rapidly grew into a hugely popular internet exchange site for pictures, video and music.
In 2003 Skype was formally founded as a company by Niklas Zennström and Janus Friis and within three years the company had approximately 115 million users.
In 2005 eBay bought Skype for 2.6 billion dollars then sold 70% to Silver Lake Partners.
By 2010 Skype had 663 million registered users and in March 2011 the first Skype Video Booth was unveiled and activated at Estonia's Tallinn Airport. The Skype Video Booth was a collaborative development between a group of Estonian companies including Estonia Enterprise and AdTech. In the not too distant future Skype Booths will most probably be found in airports and other large communal areas throughout the world.

Share on Facebook