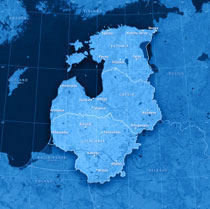 Estonian European Parliament member and former foreign minster of the Baltic nation, Kristina Ojuland will be hosting a conference at the European Parliament on the 31st January 2012 which aims to create a stronger focus on trade and investment opportunities between Turkish entrepreneurs and the Baltic states of Estonia, Latvia and Lithuania. The meeting is the third such event organised by the Brussels-based group The European-Turkish Business Confederation (UNITEE) in their "Entrepreneurs meet Embassies" series.
Also present at the meeting will be Baltic representatives; guests of honour the Latvian Ambassador to Belgium Lelde Lice-Licite, Chargé d'Affaires ad interim at the Estonian Embassy in Belgium Tuuli Parnsalu, Lithuanian Business representation in Belgium head Tomas Vasilevskis and Latvian member of the European Parliament Sandra Kalniete.
"After the resounding success of the two most recent events of our Entrepreneurs meet Embassies series, I am confident that exciting new business opportunities are just waiting to be discovered by our entrepreneurs in the Baltic states," said Adem Kumcu president of UNITEE of the upcoming event.

Share on Facebook