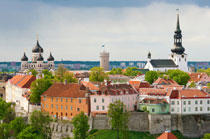 This summer looks set to be a scorcher for many hotels in Tallinn, Estonia's capital. Larger hotels are hoping to blast former sales records through the roof due to increased occupancy rates, which were 97.3% last year and 95% the year before that. If all goes to plan, this year that figure should be on the rise again. Some hotels have also increased their prices by up to 10% during the past year.
The manager of hotel Olumpia, Vitali Makejev, has recently disclosed that they already have 15-20 days this summer where the hotel has over 90% of its rooms booked. This is likely to have something to do with all the great events that have been planned for Tallinnthis summer, such as Red Hot Chilli Peppers and Lady Gaga concerts. The Tallinn Cup 2012 also takes place this July.
Tallinn is already known for its fantastic hotels – from resorts to quaint boutiques, with the number one spot going to Hotel Schlossle, rated number 1 on Tripadvisor.com. The hotel features unique decoration, designed to reflect the charm of Tallinn's 'OldTown'. With the historic restored beams and a number of antique furnishings and tapestries, mixed in with a luxurious spa and sauna and up to date technologies, its no wonder Estoniais topping the tourist charts. Most of Europe is feeling the pinch with the present credit crunch, but every one needs a break and a reasonably priced destination oozing with quirky and beautiful medieval architecture, Tallinn's old town hits the mark. Tourism will bring Estonia a welcome boost to the local economy.

Share on Facebook