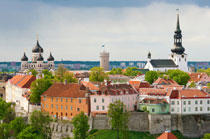 Recent court action has unfortunately been unable to reclaim funds claimed to be owed by an Estonian group of investors developing wine in the Ukraine since 1999.
Thirteen years ago, Estonian investors signed a contract with Ukraine which agreed that Estonia would invest in a wine business, Magarach, the Ukrainian state grape and wine institute to start producing wines in Ukraine. Magarach Wine Institute near Yalta was founded in 1828, but by 1999 was not making enough money to pay its employees. Overall, Estonia invested around 400,000 US dollars into the business, although the previously agreed amount was only $100,000.
Despite turning a healthy profit since the investors became involve, the contract has been disregarded by Ukraine, and Ukraine is in fact planning to keep any profits the company has earned. However, the original contract actually stated that Estonian investors would have the right to claim back a massive 49% of the profits made. The Estonian investors were Aleksandr Dulushkov, Peter Kludma and Igor Lavrinjov.
In a meeting of shareholders in January 2011, it was decided that the Estonians had the right to receive this 49% of the profit and it was claimed it would be paid out in ten days time – this never went ahead. Ukraine changed its mind, and the money remained in their side of the business. The issue has been since taken to court, where two of the courts were in favour of the Estonian investors, while the third sent the case back to the first court. It is now feared that, as the courts are influenced by the state, the money may never be back on Estonian ground.

Share on Facebook