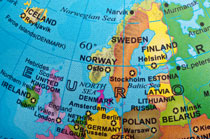 Cormack Consultancy Group (CCG), the international business development consultancy based in Peebles in the Scottish borders, has continued its recent expansion with the opening of a new office in Kolkata, India. This new office follows hard on the heels of the office they opened in Moscowin April of this year. The new office is being opened in partnership with well-known Indian entrepreneur Diwakar Thakore, and will be able to offer the full range of CCG internationalisation services to international companies looking to work and invest in the Indian market and Indian companies looking at overseas investment and export opportunities.
Diwakar studied at Edinburgh University, before becoming a consultant, businessman and entrepreneur. He has founded a number of Scottish start-up companies while his India interests have ranged from mining to software to media. He moved back to Indiaa few months back, with the aim of opening a CCG office, and utilising his extensive contacts in the Indian market to help UK companies looking to work and invest there. Commenting on the opening of the new office he said "This fits perfectly with my vision, I wanted to help Scottish companies work in the Indian market, and by forming a partnership with CCG it allows me to operate a CCG office, and link into their growing network of markets around the world, as well offer their services and utilise their processes and procedures".
Speaking prior to the official opening of the office on the 25th June Charles Cormack CEO of CCG said "CCG has been helping UK companies work in Eastern Europe for the past 11 years, and we are very excited to be opening a full CCG office in India, which is our first non-European market, the partnership means that the Indian office could utilise the best practices of the CCG head office, and we will be able to offer the same high level of service to all clients. We already know there is interest in India for working in the European markets, and in fact we already have a trade mission planned from India to the Baltic States; however we also know there is huge demand for accessing the Indian market in the UK and other European states, and we will be ideally positioned to service that demand".
CCG offers a range of consultancy services to companies looking to work internationally, the company has considerable experience of exporting, outsourcing, establishment of R&D and production facilities and supply chain development. The company is currently looking to expand its offering by opening offices in a range of new markets, and hopes to open three further offices before the end of the year.

Share on Facebook