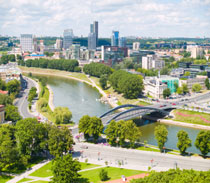 Lithuania will not have to borrow from the International Monetary Fund (IMF), the prime minister and the finance minister have said, in response to an MP's statement that Lithuania may have to address the IMF, reports ELTA. Lithuania will borrow on international markets, but not from the IMF, Prime Minister Andrius Kubilius said. "Next year, Lithuania will have to borrow. If markets hopefully offer reasonable interest rates, we will borrow," Kubilius said after a special Cabinet meeting.
DnB NORD analysts forecast that the Lithuanian economy, which has demonstrated its viability and high flexibility in responding to changing market conditions, will grow by 6% this year, while weaker investment processes and structural shortage of labour in the aftermath of the crisis will be among the key obstacles for sustainable economic development.
According to Prof Rimantas Rudzkis, Senior Analyst at DnB NORD, better than expected economic results this year will be ensured not only by the growing markets of Lithuania's major foreign trade partners, larger production volumes due to better use of the existing production capacities and faster absorption of EU support but also by the gradually recovering domestic consumption."We see that the falling unemployment rate translates into better consumer sentiment. People save less and household consumption rate is on the rise. Therefore, export driven economy will be also backed by a moderate growth of domestic demand," said Prof. Rimantas Rudzkis during the presentation of the latest issue of the Lithuanian Economic Outlook by the Economic Research Team of DnB NORD.
The ability of Lithuanian business companies to adapt to new economic realities will also have a positive effect on the economy. After losses incurred in 2009, the overall profitability ratio of non-financial corporations in Lithuania was positive and stood above 3% last year "The improving financial standing and expectations of companies will facilitate business growth and banks are likely to adjust their lending policies in line with decreasing risks," said Prof Rudzkis. DnB NORD analysts predict that the annual inflation rate will be around 4% this year, while average wages will rise by 3% in 2011 year on-year.

Share on Facebook