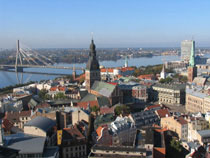 Latvia's Transport Minister, Aivis Ronis, has had a busy week in the United States.
Minister Ronis has been promoting the essential qualities provided by Port of Riga. Since 2001 the Northern Distribution Network (NDN), dubbed the new silk road, has utilised the strategic position and unarguably rising efficiency of Port of Riga as an important link in the success of the new supply route from the Baltic and Black Seas through to Central Asian countries and to Afghanistan. In the last three months alone approximately 9.5 million tons of cargo have passed through the Free Port of Riga.
During his visit to the U.S. Minister Ronis met with Transport Secretary Ray LaHood, the Pentagon logistics specialists, Defence Logistics Agency and participated in a conference to discuss NDN future prospects with Latvian and Russian embassies in the U.S., American Transport Department, high ranking officials and international logistics company representatives in attendance. Several U.S. companies met with the Minister Ronis to discus using Latvia as a distribution centre for their supplies to Russia, the CIS countries and Central Asia.
In a meeting with Air Force General William M. Fraser III at Scott Air Force base the General expressed to Minister Ronis the importance placed upon Latvia as a partner to America and the coalition forces in the movement of cargo transported through Port of Riga to safely reach forces stationed in Afghanistan.

Share on Facebook