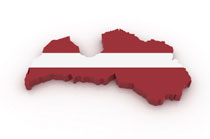 On Monday Foreign Minister Edgars Rinkevics participated in the session at Foreign Affairs Council in Brussels debating the situation developing in the EUs Southern Neighborhood regions and the countries of the Horn of Africa, the preparation for the international conference on Afghanistan, which is to be held on December 5th in Bonn and the EU Common Security and Defence Policy (CSDP).
The ministers approved to extend the mandate of the EUPOL mission until 2014, and also restated the EU's dedication to supporting the police and the rule of law after 2014. It was agreed to commence dialogue on the EU-Afghanistan Cooperation and Development Agreement, thus pledging the EU's keenness for enduring support. During discussions the Latvian Foreign Minister emphasized the role of regional partners, Pakistan and the Central Asian countries, in combating terrorism and drugs trafficking.
Considering the increasing demand for EU involvement in the resolution of crises, the foreign ministers discussed during a working lunch additional ways of improving the EU Common Security and Defense Policy (CSDP). Latvia is concerned with guaranteeing that the new CSDP initiatives endorse the advancement of the EU and NATO cooperation at the political and operational level.
While in Brussels, Foreign Minister Edgars Rinkevics also met with Stefan Fule, European Commissioner for Enlargement and European Neighbourhood Policy. During the meeting, Edgars Rinkevics stressed that political events in Europe's southern areas should not distract the EU's notice from its Eastern areas and the role of the Eastern Partnership and that EU support must be geographically balanced. The EU partner countries, for their part, must put in place political and economic reforms in order to most benefit from harmonisation offered by the EU. Minister Rinkevics and Commissioner Fule were in agreement regarding the EU enlargement process that a productive discourse with Turkey and the Balkan countries should continue.

Share on Facebook