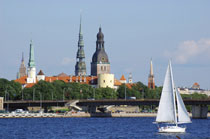 In the last decade, international tourism has become one of the most important export industries. The World Tourism Organisation expects to see a hundred percent increase in arrivals and turnover within the next twenty years.
Currently the Latvian British Chamber of Commerce (LBCC) is working together with Live Riga to develop good Business Tourism relations between UK and Latvia. Chief Operations Officer of Latvian British Chamber of Commerce (LBCC) in the UK, Marcis Liors Skadmanis is quoted as stating that Latvia can take experience from the UK, where tourism is one of the main economic drivers in the region.  The UK has the Green Tourism Business Scheme, which is Sustainable Tourism – tourism which takes into account the needs of the environment, local residents, businesses, and visitors; now and in the future. It is important to any tourism enterprise, large or small, rural or urban, whether focused on ecotourism, business tourism or any other tourism niche market. Green tourism businesses are those actively engaged in reducing the negative environmental and social impacts of their tourism operations. The Green Tourism Business Scheme (GTBS) accredits a variety of tourism related businesses, beyond places to stay and visit.  All these businesses are making an effort to reduce their environmental impact and are assessed every two years against rigorous criteria, covering areas like energy efficiency, waste minimisation and recycling, use of local produce, and support of public transport.
According to the Latvian Central Statistical Bureau's (CSB) information summarised by the Riga Tourism Development Bureau (RTAB), the number of guests staying at Riga (capital city of Latvia) hotels and other tourist accommodations in 2010 increased by nearly 15%. The increase was especially steep in terms of the numbers of tourists coming from such Live Riga campaign target countries as Russia, Norway, Finland, Sweden, Estonia and Germany.

Share on Facebook