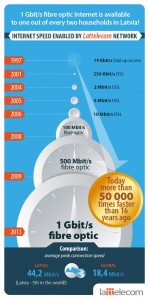 October of this year half of all households in Latvia will access one of the fastest Internet services in the world – fibre optic Internet connection bandwidth up to 1 Gbit/s enabled by Lattelecom, the leading electronic communications service provider in Latvia. This speed upgrade is also likely to positively affect Latvia's current position in the world's Internet speed rankings. Based on Akamai State of the Internet Report, in the 1st quarter of 2013 Latvia was ranked the 6th in the world for average connection speed and the 5th in the world for average peak connection speed.
Mr. Juris Gulbis, Chairman of Lattelecom Management Board stated, 'Starting from 2008, which is when we commenced fibre optic infrastructure development works in Latvia, we have invested as much as 30 million lats in the network, converting fibre optic Internet into an industry benchmark. Since then the needs of our customers have increased and technologies have undergone further development, making it a generally accepted routine that each individual household would use multiple TV sets, or that each family member would use his or her own computer or smartphone. Total Internet usage has kept growing real fast on our network – each year it has increased by even twice as much on average, which is why we have made a step towards meeting the needs of "a future customer" through upgrading Lattelecom data network capacity up to 1 Gbit/s, which is an unbelievably high speed.'
Mr. Anrijs Matīss, Minister of Transport, considered that, from the point of view of industry growth, it is a highly notable achievement towards enabling availability of high quality and easy to use electronic communications services and quality fulfilment of the objectives laid down in the Digital Agenda for Europe.
Following the increase, the current Internet speed is more than 50 000 times faster than in 1997, when Lattelecom launched the first 19 Kbit/s Internet dial up connection aimed at residential customers.  Sixteen years ago a user would have taken 25 days to download a 5 GB size document, while today this action takes aprox. 40 seconds. Faster bandwidth provides maximum benefit to such households in which multiple computers and TV sets furnished with Interactive TV functionality are used actively and simultaneously by multiple family members, as well as to such individual users by whom large amounts of data (e.g. high resolution videos and photos) are processed on a daily basis.

Share on Facebook