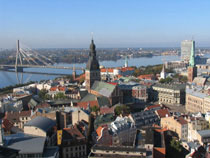 During the recent opening ceremony in Riga of the Body of European Regulators for Electronic Regulators (BEREC) Latvian President Andris Berzins stated he was delighted to be opening the first EU level institution in Latvia. According to the president opening this EU level institution will also encourage the country to move its central institutions outside Riga.
Vice president of the European Commission and European Digital Agenda commissioner Neelie Kroes talked about the implementation of digital program as resource for economic development. According to her the EU must think about creating new job opportunities and the further development in various areas of economy.
BEREC and its support office were created within the recently approved reform of the EU Telecom rules to improve the consistency of implementation of the EU regulatory framework to provide a suitable mechanism for encouraging cooperation and coordination between national regulatory authorities and the Commission, in order to promote the development of the internal market for electronic communications networks and services.
BEREC is responsible for the harmonization of the EU internal market in the field of electronic communications and significantly support of the European Digital Agenda thus promoting Europe's global competitiveness and providing new jobs for Europeans in the area of information and communication technologies.
Latvia believes that the development of the sector is important and provides a basis for further progress in education, social sphere and economic development.

Share on Facebook