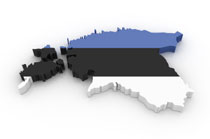 Estonia's main petrol station chains including, Alexela, Statoil and Olerex are all ready to start installing electric car charging points at their petrol stations. Lauri Tammiste the head of Division at the Ministry of Economic Affairs and Communications said that initially the requirement would be for approximately 270 speed charging points. These would ideally be a network of points covering the main towns, highways and transport hubs. The Kredex foundation is coordinating implementing the installation of the charging points, with the completion envisioned to be completed by year end 2012.
At the beginning of March it was agreed that Estonia would sell 10 million carbon credit points to Japan's Mitsubishi Corporation and in return Estonia would buy 500 electric cars and chargers from Mitsubishi. Funds remaining after purchase of the cars were to be channelled into installing the chargers and the creation of the nation network of charging points needed to run the cars. Initially the cars will be given to local authorities for social workers, but a grant will be created to aid private individual purchasers.
Despite the terrible recent events in Japan, plans have not been interrupted and will proceed as intended.

Share on Facebook