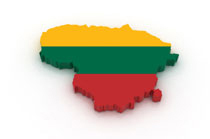 At a seminar at Robert Gordon University Business School in Aberdeen, Scotland on the morning of 27th October businesses are to be told the key to powering their companies out of the recession could be to join a growing group of UK businesses who are exploiting the strategic benefits of partnerships in emerging economies such as Lithuania.
Organised in partnership with Cormack Consultancy Baltic, and business experts from Invest Lithuania will advise an audience of business leaders how their companies could benefit from forging commercial links with Lithuania. Located at the crossroads of Scandinavia, Russia and the CIS; Lithuania is the gateway between Eastern and Western Europe, offering a series of critical financial, technological and strategic advantages to any business seeking to grow despite the downturn. "In challenging times, business leaders have to think and act flexibly. They need to be prepared to take advantage of the fact that we operate in a global economy, and to embrace the partnerships and opportunities that could shape their companies future irrespective of where they might be located," said Invest Lithuania's General manager Mantas Nocius.
The benefits of overseas partnership apply to many sectors, but the seminar will be particularly relevant to Technology, Manufacturing, IT, Shared Services and BPO companies as well as Life Sciences and R&D operations considering investing in research & innovation, near shoring or developing a cost-effective business abroad.
A range of speakers from Lithuania and the UK are scheduled to attend, who will give detailed overviews of particular sectors while sharing their experiences of working in the country. Barclays, Glaxo Smith Kline, Marks and Spencer, The Body Shop, Aviva and Astra Zenica, amongst many others, have already taken advantage of the numerous financial support programmes available to UK investors in the region, which has been dubbed one of the best business destinations in Europe thanks to its large and well educated talent pool, strategic location, fiscal incentives and state-of-the art communications networks. Also speaking at the event will be Charles Cormack the CEO of Cormack CCB Ltd, a UK based business and trade facilitation company which has been helping UK companies work in the Baltic for the past 11 years.

Share on Facebook