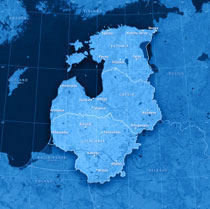 Recent data released by Eurostat demonstrates that the Baltic states of Estonia, Latvia and Lithuania have recorded the greatest fall in unemployment rates of all the EU countries for 2012.
Eurostat is the statistical office of the European Union and by comparing figure from all the EU member states over a twelve year period has produced statistics and tables showing unemployment rises and falls within those states. As to be expected during the recent economic crisis all EU member states experienced rapid growth in unemployment. All countries then showed gradual growth in unemployment, a flattening out and eventual decline towards lessening unemployment, all of which takes time and increased commitment between governmental bodies and local industry.
Gratifyingly for the Baltic States figures gathered between September 2011 and 2012 show the biggest drop in all member states is reported to be in Estonia from 11.5% to 9.6%, closely followed by Lithuania from 14.2% to 12.4% and then Latvia from 15.7% to 14.2%..Greeceis shown to be one of the hardest hit with continual unemployment growth figures when their unemployment figures were compared from September 2011 at 18.4% climbing to 25.4% in September 2012.
It has been reported during the peak of the credit crunch crisis years that the whole of the European Union had much to gain from close inspection of the Baltic States and their untiring ability and willingness to belt tighten for the greater good of their economic future. Reports such as Eurostat validate the success of the Baltic States Governmental business policies.

Share on Facebook