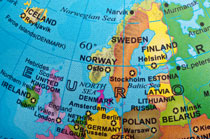 Prime Ministers Andrius Kubilius of Lithuania and Fredrik Reinfeldt of Sweden met in Vilnius, Lithuania on Tuesday 15th March 2011 to discus energy issues. High on their agenda was the NordBalt energy link, a high-voltage electricity direct current cable laid under the Baltic Sea connecting Sweden and Lithuania.
The Prime Ministers used the occasion to announce that the project was on target to be completed as originally projected, by 2015.
The project will cost 550 million Euros to complete, of which 131 million Euros is being funded by European Union. The Cable will be a total of 450 kilometres in length, 400 kilometres submerged under the Baltic Sea, 40 kilometres in Nybro, Sweden and 10 kilometres in Klaipeda, Lithuania. The cable will have a 700 megawatt capacity.
Klaipeda port is an area much settled by European companies who have built their plants and factories there as it is and inexpensive and convenient worldwide access point. The success of Klaipeda port's foreign investment project, Klaipeda Free Economic Zone (FEZ) will be favorably enhanced with the inclusion of the electric cable link.
The NordBalt power cable will create a single electricity market of Northern Europe, made up of the Nordic countries and the Baltic States.

Share on Facebook