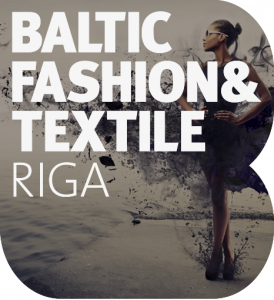 Sourced by BT 1
To promote the development of the Baltic textile industry and to expand it to the international markets, the International Exhibition Company BT 1, the organisers of the Lithuanian textile fair "Baltic Textile & Leather" and the textile industry associations of Latvia and Lithuania have reached an agreement that, as of 2014, there will be one competitive fashion and textile industry fair "Baltic Fashion & Textile" rotating between venues in Riga (spring) and Vilnius (autumn).
The 19th International Textile Industry Fair "Baltic Fashion & Textile RIGA 2014" will take place from 4‒6 April at the Kipsala International Exhibition Centre, Riga, offering a vast exhibition, fashion shows, conferences and business-to-business matchmaking and the International Competition for Young Fashion Designers "Habitus Baltija 2014". The fair will bring together the most competitive manufacturers, distributors and designers offering an international communication and business platform for the fashion and textile professionals in the Baltic States, Scandinavia, Russia and the CIS.
One common fair for the Baltic countries opens up new opportunities to promote more ambitiously the Baltic fashion and textile products, creative potential, enhance product competitiveness and expand sales into new markets across the Baltic States, the EU, Scandinavia, Russia and the CIS.
"Baltic Fashion & Textile Riga 2014" will introduce the new season collections, supplies and equipment, home textiles, innovative textiles, technical textiles, fashion accessories, designer recycled clothing collections, as well as it will offer a daily programme of fashion shows of the latest spring / summer ready-to-wear collections.
An opportunity to share experiences, acquire new knowledge and contacts, the fair will offer international conference series covering the most current fashion and textile industry topics on 4 and 5 April.  This will be an important event for designers, stylists, textile professionals and top managers, academic staff and students, and everyone engaged in the fashion and textile industry.
The conference speakers will share their experience and the participants will have the opportunity to discuss the current industry news, e.g. the use of innovative and eco-friendly materials in clothing, starting a fashion business and the development opportunities in Europe, the quality and accessibility of fashion design programmes in Latvia and elsewhere in Europe.
The organisers offer to businesspeople, manufacturers, distributors and designers an exclusive platform to build up business contacts and new partnerships ‒ B2B Matchmaking Event that allows contact potential partners and schedule individual meeting programmes already before the fair and to meet in person, present products and services, discuss opportunities for further collaboration and get business contacts during the fair.
The 14th International Competition for Young Fashion Designers "Habitus Baltija 2014", 5 April, will present unique fashion collections created by young designers from Latvia and more than a dozen other countries that will compete for the Grand Prix and a significant prize fund. "Habitus Baltija" is a fashion event included in the events programme of Riga ‒ European Capital of Culture 2014.
More information about the fair: www.balticfashiontextile.com
Registration for the fair is open! Please contact the "Baltic Fashion & Textile 2014" sales manager Ms Ilze Avota on the telephone: +371 67065037 or via e-mail: ilze.avota@bt1.lv

Share on Facebook