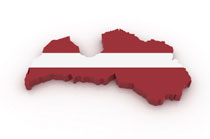 Latvia's gross domestic product will expand at least 4 percent as the economy weathers the effect of Europe's debt crisis, said Mark Griffiths, the International Monetary Fund's mission chief for the Baltic country, reports Bloomberg. "The economic situation is getting better, GDP could grow 4 percent or even higher this year," said Griffiths, at a recent press conference in Riga.  "The difficulties in Europe will effect Latvia, but to a less extent.
While Margarita Dunska, professor of the University of Latvia Faculty of Economics and Management, agrees that the GDP rise of 2.5% is not an actual growth, yet she also believes that 6% would be too much.
While from the corporate world, Construction holding company UPB Chairman Uldis Pilens considers the Latvian business environment and the existing management potential is good enough to adapt to more dramatic scenarios. Another thing is that the government fails to do so. "This makes businessmen show egoistic interest in sound governmental policy and administration. We are a nation of singers – some sing better, others – worse, yet someone has to conduct this choir so that it would overall sound good. Yet, we have a very massive shortage of such people", Pilens notes.
Although the Finance Minister believes that the European leaders could prevent the global economic crisis by taking bold decisions and sorting out public finances, Pilens thinks that if large European countries actually start doing what Latvia did in recent years, they might get in huge mess.

Share on Facebook